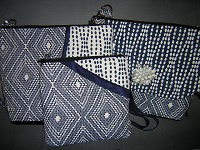 Sassy Sacks are Handmade Original Handbags and Earrings
These Handbags and totes are not just accessories to your wardrobe.
They are Conversation Pieces, Artistic, and One of a Kind Handbags. You can not own just one handbag. I hand make each bag from my own patterns. Each bag is one of my original designs. I have added a new line of handmade earrings. All are one of a kind and have been made from raw clay or paper. The bags and earrings are sold at art shows so check my calendar to see if I will be in your area soon. If not check my website to order. Any questions please feel free to email me at sassysacks.net@gmail.com
Heads will turn as you are out and about with your Sassy Sack.
I started my company in 1995 and have always created a one of a kind handbag. I incorporate all of my arts, such as fiber art, crochet trims, hand dyed yarns and fabrics , painting and custom findings. I draft fresh patterns and uses different surface designs for every collection. My bags have the reputation for being original, a work of art, reflecting the diverse personalities of women and still being functional. I consider functionality to be of equal importance which is why I include such things as zipper closure and outside pockets with inside pockets to organize the bags. My bags are known for the old-fashioned attention to details, making my work apart from nearly all other bags.
Designing is a way of expressing the fun I feel in myself and in other women.
Cyndy
I change the selection of bags each time a new one is created!!! So check out new additions.
To Contact me email at sassysacks.net@gmail.com
DUE TO BEING ONE OF A KIND, IF YOU WANT ONE LIKE ONE YOU HAVE SEEN IN THE OTHER STYLE , YOU Can EMAIL ME TO SEE IF I WOULD HAVE THE FABRIC, OR SOMETHING CLOSE TO IT. I WILL SEND YOU A PICTURE OF FABRIC AND MAKE THE BAG AFTER PAYMENT IS MADE. No custom work see return policy tab for that information.
All designs are trademarked